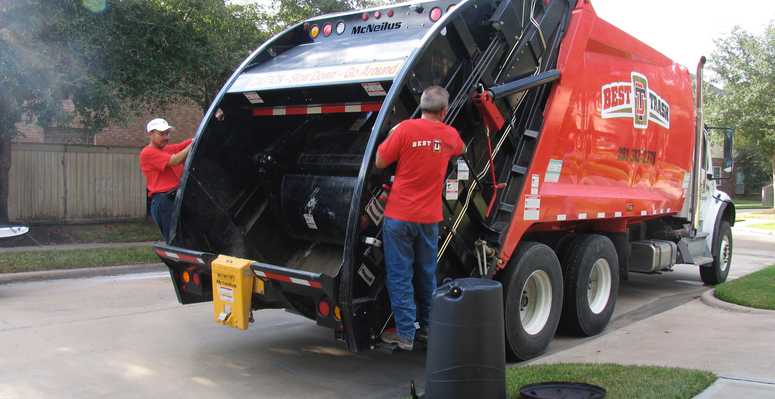 Collection Schedule
Trash Collection: Monday, Thursday
Recycling Collection: Monday
Please have your waste out prior to 7AM for collection.
Holidays
If your regular trash collection day falls on a holiday (New Year's Day, Memorial Day, Independence Day, Labor Day, Thanksgiving Day or Christmas Day) the collection will be made on the next regularly scheduled collection day.
Trash Collection
On each Monday and Thursday, Best Trash will collect residential refuse located at the curbside in resident supplied cans or bags between 30 to 50 gallons in size, weighing no more than 40 lbs. each item. Items excluded from normal collection are dirt, rocks, bricks, tile, concrete, tires, batteries, motor oil, cooking oil, waste generated by a private contractor or any materials or items deemed hazardous materials. Please do not dispose of gasoline, motor oil, paints, cooking oil, or any other liquid items in a container that are not visible to Best Trash personnel. If such items result in spillage that causes a stain, Best Trash is not responsible for the cleanup. Best Trash will leave a tag explaining the reason for any non-collected item(s).
Yard & Bulk Waste
Trees, shrubs, brush trimmings and fencing must be no larger than 4 inches in diameter, no more than 4 feet long, tied in bundles not exceeding 40 pounds. The tied bundles is required to allow quick pick up and size limitations are required to avoid damaging the equipment in the compacting process. Items such as appliances, furniture, mattresses, carpet (up to 1 room of carpet, cut less than 4 feet wide, tied in bundles not exceeding 40 pounds), will be picked up on both garbage collection days. By Federal Law, refrigerators, freezers, and any other items containing Freon must be drained of Freon and have an accompanying bill to validate such service was performed.
Heavy Trash
Please limit to two (2) items per service day. The items listed below are items not generated on a regular basis:
Furniture: couch, loveseat, table, mattress, box spring, desk, dresser, etc.
Appliance: washer, dryer, dishwasher, microwave, hot water heater, etc.
Electronic: Televisions, computers, etc.
Basketball goal (please remove the pole from the base and the backboard, no concrete in base or poles)
Fencing: (please remove nails, cut into lengths 4 feet or less, tied and bundled under 40 pounds, limit of 10 tied bundles per service day.
Carpet/Flooring: please cut into lengths 4 feet or shorter, tie and bundle under 40 pounds, limit of 10 tied bundles per service day, up to one room.
Large glass: items such as glass tabletops, shower doors, entry doors are acceptable up to 5 feet in length, however, they must be broken and placed into a box that is secured and marked BROKEN GLASS or covered vertically and horizontally with duct tape to prevent broken glass from shattering when loaded into the truck. This allows the employees to collect glass safely.
Excluded from Trash Collection
The following items are considered hazardous waste and will not be collected by Best Trash. If you have household hazardous waste you may properly dispose of your items at the Harris County HHW facility. This service is provided to residents of Harris County free of charge. Visit the Harris County HHW Website to view their hours of operation and to confirm your waste is on the accepted items list.
Medical waste
Any appliance containing Freon
Acids
Car batteries
Dead animals
Chemicals of any kind
Car parts
Tires
Any type of construction waste, material or debris
Concrete
Large quantities of carpeting and rolls of carpet
Fencing
Toxic or radioactive waste
Accepted Materials for Recycling
Paper
Plastics
Glass
Aluminum & Steel
Cardboard
Unacceptable Items for Recycling
These items either fall under the hazardous waste umbrella or simply just not recyclable.
Biohazard Waste
Medical Waste
Pesticides/Chemicals
Styrofoam of any kind
Food Encrusted paper or cardboard
Electronics